Works are currently underway to restore the Govan Road entrance of Elder Park and the K13 Memorial to their former glory. You can see a timeline of these works here.
Although it would have once been a handsome formal entrance to rival the other Victorian Parks found around Glasgow, the gateway to Elder Park had fallen into desperately poor repair over many years.  It was missing all but one fragment of its original wrought and cast iron gates, numerous finials from its flanking railings as well as the original cast iron lamp stands and lanterns that once adorned the gateposts. The six large octagonal sandstone pillars (the central two of which were surmounted by decorative octagonal gas lamps) were in varying states of deteriorating condition: covered in algae and moss, partially coated in cement, cracked in places where integral ironwork had expanded, off-plumb, and with missing and damaged areas of formerly intricate stone carving. The granite-built K13 memorial had been badly displaced on its base, some panels were loosening, and the water supply to the drinking basins no longer functioned.
The restoration will repair the stone – removing vegetative growth, realigning the sandstone pillars, carving new stone to replace the missing features, such as the decorative frieze on one of the octagonal pillars or the fish scales and gargoyle on the pillar cap, whilst consolidating existing carved details that can be preserved, and pointing in lime mortar. The missing cast iron gates and fence finials will be recast from original patterns and new patterns made to manufacture the two standard lamps and once again light up the park entranceway. The K13 Memorial will be carefully dismantled and rebuilt. Reclaimed setts will be laid to enhance the walking surface upon entry to the park.
In tandem with the repair works, a community project called "Mrs Elder's Glorious Gift" is being offered in association with the Friends of Elder Park to enable local residents and enthusiasts to engage in the restoration process, experience traditional materials and methodologies and to discover and share more about fabulous Elder Park – its heritage and its future uses. You can find out more in our Get Involved pages and we have be posting juicy details about the amazing repair works as they happen on the Get into Govan News and Social media feeds and also on the Friends of Elder Park website.
The restoration of Elder Park's Govan Road Entrance & the K13 Memorial as well as the Mrs Elder's Glorious Gift project is being delivered as part of Govan Cross Townscape Heritage Initiative in collaboration with Glasgow Building Preservation Trust with funding from the National Lottery Heritage Fund, Historic Environment Scotland and Glasgow City Council.
Key Facts
Status: Works on site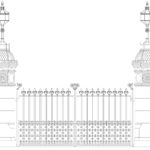 Estimated Cost: £110,000
Timescale: Start January 21. Est. completion by May 2021
Funders: Glasgow City Council, National Lottery Heritage Fund, Historic Environment Scotland,
Project Team: Glasgow Building Preservation Trust, Fiona Sinclair Architect, Industrial Heritage Consulting Ltd, Glasgow City Council Neighbourhoods Regeneration & Sustainability, Chani Bond (Heritage Engagement Officer).