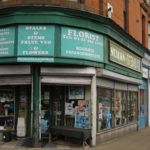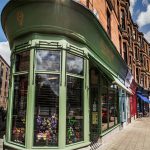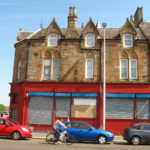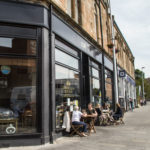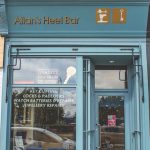 THI Phase 1 funded two phases of the Traditional Shopfront Improvement Grant Scheme (TSIG) between 2009 and 2015, beginning with Phase 1 making improvements to 3 shopfronts at 5 and 9 Water Row and Café 13, 794 Govan Road. These were selected due to their prominent and highly visible locations at Govan Cross, as well as their position at the ground floor of three of Govan's finest Listed Buildings. As you will see from the completed photographs here, the results are fantastic and elevate the quality and character of Govan conservation area and the public realm at Water Row, with Café 13 being hailed locally as being "truly transformational".
Phase 2 of the improvements took place at 6 shops along Langlands Road. These shops are located at an important site within the Conservation Area because of their visibility from Golspie Street and their potential to 'entice' shoppers and businesses – who would perhaps otherwise bypass Govan – into the town centre. Improving their appearance by carrying out traditional shopfront improvements improved the attractiveness of the streetscape and generated greater economic activity, both at these shops and within the wider Town Centre.
Key Facts
Status: Complete
Phase 1 – 5 and 9 Water Row – Start: September 2012 Complete: October 2012 and Café 13 – Start: October 2013 Complete: November 2013
Phase 2 – 6 shops on Langlands Road Complete: February 2015
Grant Budget: £318,000.
Timescale: October 2009 – March 2015.
Funders: Heritage Lottery Fund, Historic Environment Scotland, Glasgow City Council, Private Owner Contribution.
Project Lead: Govan Cross THI Team
Project Teams:
Phase 1: ZM Architecture, Morris and Spottiswood, DO Architecture, Pride Shopfitters
Phase 2: ZM Architecture, Morris and Spottiswood